Recipes
Suggest a recipe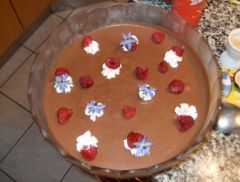 Mousse au chocolat
gfh2010
Participant of our 2010 Glutenfreiheit Sweepstake
Recipe serves four people.
100 g gluten-free dark chocolate
1 tbsp butter
2 eggs
1 tbsp sugar
1 pinch salt
1/8 liter heavy cream
1 tbsp icing sugar
Crumble chocolate and melt with butter in a small saucepan over very low heat.
Separate eggs, stir egg yolks with sugar until fluffy. Beat egg whites with salt until stiff.
Beat cream with icing sugar until stiff.
Mix melted chocolate with the frothy egg yolk mix and add 2 tablespoons of beaten egg white.
Let the chocolate cream cool off a bit. Then mix everything with the remaining beaten egg whites and the whipped cream mix.
Let mousse au chocolat harden in the refrigerator. Decorate the rest of the cream with some berries, coffee beans and edible flowers.