Recipes
Suggest a recipe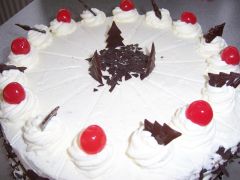 Black forest cake
dzg2010
Participant in our 2010 DZB Sweepstake for the most innovative glutenfree recipe
Dough:
4 eggs
125 g sugar
1 tsp vanilla sugar
1 tsp gluten-free vanilla pudding powder
100 g potato flour
1 tsp baking soda
2 tbsp cocoa powder
Filling:
7 tbsp cherry brandy
0,8 l cream
30 g sugar
750 g sour cherries from the jar (drained)
1 tbsp chocolate chips
16 cherries
Take a baking ring Ø 26 cm and cover with baking paper.
Preheat oven to 225° C.
Separate the eggs.
Beat egg whites and 4 tablespoons of cold water with the hand mixer until stiff.
Sprinkle with sugar and vanilla sugar.
Stir until sugar is completely dissolved.
Add egg yolk.
Sieve and add custard powder, potato flour and baking powder.
Pour foam mass into the form.
Bake in preheated oven at 225° C for 12-15 minutes.
Test if ready with a wooden stick. If no dough on sticks, it is ready.
Place sponge on a wire rack.
Remove baking ring and baking paper gently and let it cool off.
Cover with plastic wrap and let it rest for 12 hours. Cut the biscuit twice horizontally.
Sprinkle the bottom layer with cherry brandy.
Beat the cream with a little sugar until stiff.
Let the cherries drain well.
Spread whipped cream on two layers about 2 cm and distribute cherries on top.
Spread the top layer with cream and sprinkle with chocolate chips.
Build the cake and spread cream on the side. Sprinkle the side also with chocolate chips.
Spray 16 cream roses on the cake and garnish with cherries.
Put the cake in the refrigerator.