Recipes
Suggest a recipe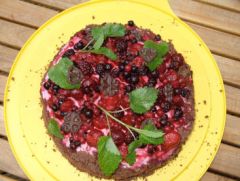 Chocolate and berry cake
gfh2010
Participant of our 2010 Glutenfreiheit Sweepstake
Sponge cake:
5 eggs
150 g sugar
1 package vanilla sugar
100 g gluten-free flour mixture
50 g ground almonds
30 g cocoa powder
1 tsp baking powder
Filling:
350 g mixed berries
400 ml whipped cream
50 sugar
1 package of cream cakes assistance
300 g sour milk or kefir
Biscuit:
Mix the eggs in a mixing bowl for about 1 minute on the highest level until foamy.
Add sugar and vanilla and then mix for another 2 minutes.
Mix flour with almonds, cocoa and baking powder, sieve everything and add to the dough in portions.
Pour the dough into a baking paper-lined baking tray (26 cm) and bake at 180° C for about 30 minutes.
Place ground on a wire rack, remove baking paper and let the biscuit cool off.
Cut cooled biscuit horizontally into three pieces.
Filling:
Puree 200 g of soft fruit and beat cream until stiff.
Mix puree, sugar and cream and add kefir/sour milk.
Place one third of the cream in a different bowl and add all remaining berries with two thirds.
Refrigerate the creams until frothy.
Spread the cream with the whole berries on the lower floor. Leave out 2-3 cm to the edge, cut the dough off and crumble and set it aside.
Place the second floor on top and spread with the remaining cream. Repeat with third layer.
Garnish:
Spread the cake edges with cream and sprinkle with cake crumbs, berries and possibly, edible flowers, lemon peel or chocolate.