Recipes
Suggest a recipe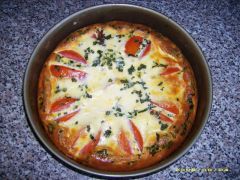 Tomato and mozzarella quiche
gfh2010
Participant of our 2010 Glutenfreiheit Sweepstake
Dough:
300 g gluten-free flour
150 g margarine
6 tbsp cold water
1 tsp salt
Topping:
4 vine tomatoes
2 mozzarella cheeses
1 bunch basil
1 cup cream
3 eggs
Salt, pepper, paprika
Place ingredients in a bowl and knead into a dough.
Form dough into a ball and place for 1 hour in the refrigerator.
Roll out dough and place in a greased pan.
Wash tomatoes, cut into small slices and spread on the dough.
Whisk cream and eggs and spices and add chopped basil.
Cut mozzarella into slices and arrange on the tomatoes.
Add cream-egg-spice mass on top and bake at 175° C for 30-35 minutes.