Recipes
Suggest a recipe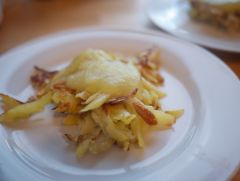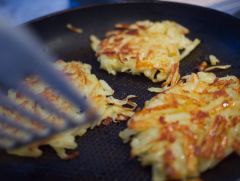 Potato Pancakes with Applesauce
For the pancakes:
6 large potatoes
4 tbsp gluten-free flour
2 eggs
salt and pepper
oil
For the apple sauce:
1 kg apples
50 ml water
sugar
juice of half a lemon
Potato Pancakes:
Grate potatoes with a grater.
Add the eggs and season with plenty of salt and little pepper.
Sprinkle with so much flour that the potato mixture is covered.
Mix together everything properly.
Fry potato biscuits (they have to swim in oil). Then drain on paper towels.
Applesauce:
Wash and peel the apples and remove seeds.
Boil together with water for 10 minutes.
Puree with a hand blender.
Season with sugar and lemon juice.