Recipes
Suggest a recipe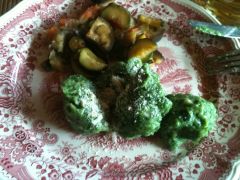 Malfatti
500 g spinach
200 g ricotta
100 g grated gouda
parmesan cheese
2 small eggs
2 egg yolks
150 g gluten-free flour (or more)
salt
white pepper
grated nutmeg
75 g butter
Chop and wash spinach.
Mash ricotta with a fork.
Mix ricotta with spinach, gouda, eggs, egg yolks and as much flour so that the dough holds together well.
Season with salt, pepper and nutmeg.
Place walnut-sized dumplings with a damp tablespoon in boiling salted water.
Cook about 5 minutes until the Malfatti come to the surface.
Melt butter.
Remove dumplings out of the water, place on a warmed platter, sprinkle with butter and Parmesan.