Recipes
Suggest a recipe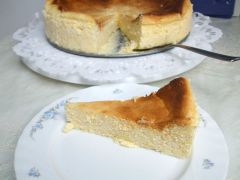 Bottomless cheese cake
gfh2010
Participant of our 2010 Glutenfreiheit Sweepstake
1 kg cottage cheese or skim cheese
5 eggs, separated (in egg yolk and egg white)
125 g margarine or butter
250 g sugar
juice of one lemon
1 package baking powder
1 tsp vanilla sugar
3 tbsp polenta
Let the cottage cheese drip in a sieve.
Separate the eggs and mix sugar, vanilla sugar and egg yolks with an electric mixer until it is creamy. Add lemon juice and cottage cheese spoon by spoon while stirring. Add polenta and baking powder.
Whisk the egg whites until stiff and lift it carefully into the egg-quark mass.
Fill everything into a buttered baking form and bake about 1 ¼ hour at 175° C.
Turn down to 150° C after about 20 minutes.
Let it cool of inside the baking form.