Gluten-free supermarket
San Francisco is artsy, peculiar and healthy. When I was there in November a friend recommended a gluten-free supermarket to me. I went with my colleagues to check it out. The store was small but EVERYTHING in there was gluten-free. I have never seen so much gf food in one place. There was a whole shelf with pasta and another one with bread and another with...
I discovered some well known products that I can buy at home. But I also found some gluten-free Asian rice crackers, crisp bread with dried tomato flavor and buckwheat ciabatta bread which I bought to make burgers.
Topher, who was running the shop, was a landscape designer, a painter and a well traveled woman. She told us about her experiences cycling through the snow in Berlin. Even in San Francisco it takes a special woman to create a special store – a gluten-free paradise.
Next time, you are in San Francisco, you should definitely check it out and say hi to Topher from me: Gluten Free Grocery, 660 Illinois street, San Francisco, CA 94107.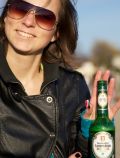 Author
This post was written by Kati
Tell others about this!
Tweet
Next post
Food is such an integral part of culture, and is often where thoughts turn when thinking of travel.
Previous post
Many US startups are famous for their atmosphere: free massages at Google's headquarter, free laundry at Facebook's headquarter – Airbnb also has a kitchen and a chef in its San Francisco headquarter.